If you own a tortoise, you probably have a name for him or her. The name may suit him, and sometimes it might not be the best. Choosing a name can be tricky sometimes, especially if you are not the creative type. To come up with the right name, you need to have some imagination, include your creativity and not forgetting some inspiration.
In this post, I have come up with a different set of names that may suit your tortoise. These names should serve as inspirations and head you in the right direction. I have also put down some tortoise names with their meanings to help you decide wisely. Go through the list and see if you will get a name that you like. Check out one of our top blog posts on whether your tortoise can swim.
What Are Good Names For A Tortoise?
Proper names take into account the tortoise characteristics, personalities, unique markings, movement, and so on. You just need to find something that stands out in the tortoise. Another way to get cool tortoise names is from famous movies, books, history and comics with fictional tortoises. You can use a fictional tortoise name of a tortoise with similar behaviors and characteristics as yours. Go through the list below and get some proper names for your male or female tortoise.
Tortoise Names And Meanings
Alex is a tortoise name meaning the defender of mankind.
Asher means blessed
Sapphire represents a precious blue stone.
Addy means the son of man.
Arnold means eagle power.
Torterra is a character from Pokemon.
Shell shock is literal, meaning that you will get shocked if you touch the shell. A cool name for a tortoise that is not a fan of being handled.
Scarlet is an excellent name for tortoises with beautiful colors.
Shredder means that your tortoise has a huge appetite.
Leonardo means strong and brave.
Raphael is a tortoise named, meaning God has healed. Cool name if your tortoise lightens your day.
Sunny is an excellent name if your tortoise loves to bask under the sun.
Zoom means moving fast from one place to another, which is a funny name for your tortoise.
Mock a great name, especially if you think that your tortoise likes to mock people.
Crush is an excellent name if your turtle gives you butterflies LOL.
Top Tortoise Names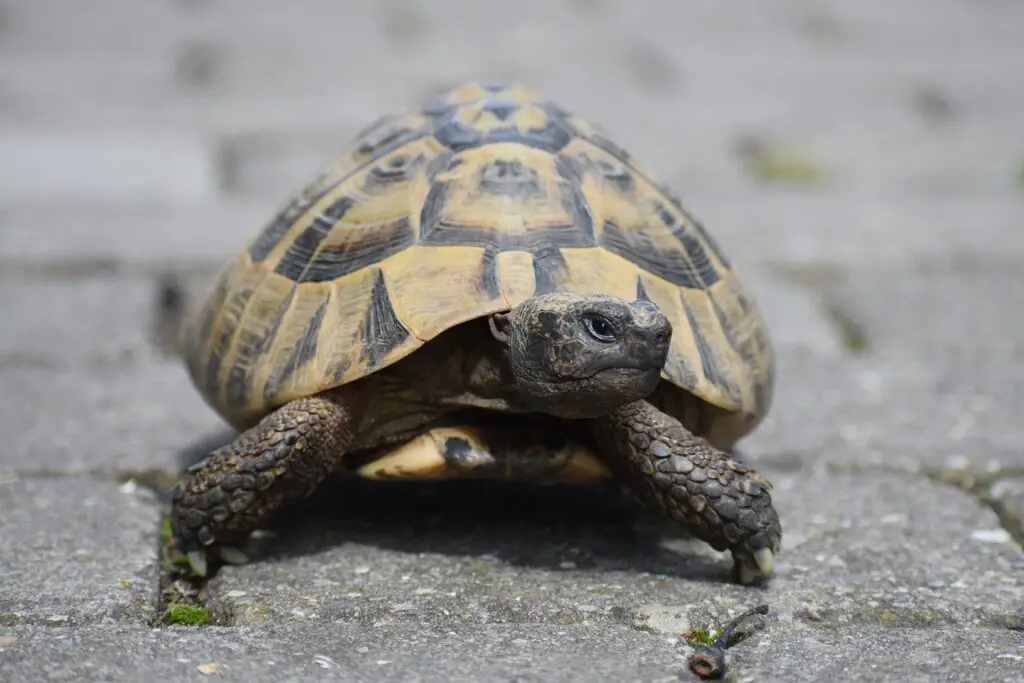 Here are some of the top tortoise names.
Pokey
Truck
Flippy
Tank
Mack
Donatello
Sheldon
Tortellini
Dozer
Tonka
Spot
Snappy
Rafael
Turbo
Shelly
Squirt
Speedy
Fido
Mary Shelly
Rover
Good Tortoise Names
Go through the list below to get inspired by some proper tortoise names.
Milo
Stripe
Pinky
Linnaeus
Darwin
Atticus
Tartarian
Fred
Gwynne
Tovar
Zuni
Coro
Stretch
Reeves
Woody
Sherlock
Watson
Cherry
Chelan
Tortoise Names Girl
Below are some suitable girls tortoise names.
August
Holly
Ivy
Lady Boxworthy
Ginger
Lily
Opal
Bertie
Sienna
Myrtle
Ruby
Tammy
Penny
Molasses
Tortoise Names Boy
Boys tortoise name should reflect toughness and strength. Check the list below.
Achilles
Lonesome
Timothy
Hurry/Harry
Squirtle
Gamara
Koopa
Franklin
Touche'
OM
Oogway
Maturin
Kurma
A'Tuin
Yertle
Mack
Funny Tortoise Names
Do you think your tortoise is unusual? Here are some suitable names
Peek-a-Boo
Shell Shock
Hokey Pokey
Zoom
Bolt
Ninja
Turtle Recall
Scooter
Rocky
Thunderdome
Flippy
Shelly
Hard hat
Nitro
Turtle neck
Lightning
The flash
Mario Andretti
Cute Tortoise Names
Here is a list of cute tortoise names.
Dome
Lumpy
Globe
Rainbow
Crayon
Cherry
Castle
Scarlet
Mud Wrestler
Taffy
Taco
Tammy
Swimmer
Red
Shyman
Pet Tortoise Names
If you do own a pet tortoise, get the right name for him from the list below.
Donnashello
Lightening
Poptart
Split
Rufus
Mustafa
Atlas
Fergus
Truffles
Jill
Juliet
Kisses
Ernie
Jerry
Daisy
Yang
Spice
Sugar
Popular Tortoise Names
You should have heard these names from tv series, movies, books, and comics. Check to see how many you will recognize.
Rafael
Leonardo
Shelly
Tom, Dick, and Harry
Lonesome George
Squirt
Donatello
Flippy
Cecil
Crush
Blastoise
Flo and Eddie
Esio Trot is tortoise when reading backward.
Achilles
Om
Best Tortoise Names
Here is a list of best tortoise names.
Tooter tortoise
Touche' turtle
Browser
Peanut
Frodo
Doris, the tortoise
Shell yeah
Aristurtle
Gloria in exc-shell-sis Deo
Bruiser
Hammer
Tallon
Dumbo
Square
Einstein
Picasso
Poe
Tortoise Names From Movies
If you are a fan of movies, you should have heard these names.
Crush
Gamera
Grandmaster Oogway
Howard
Morla
Shelly
Tokka
Verne
Venus
Lenny Turtletaub
Tuck
Terraspin
Turdy turtle
Pong pagong
Kamoebas
The lion turtle
Tortoise Names Beginning With T
Tortura
Tory
Trixie
Trent
Tim
Tillie
Titan
Taylor
Tyrell
Tara
Trey
Truman
Thor
Thelma
Tad
Tubby
Tamara
Tortoise Names From Reddit
Sal Monella
Albert
Zeus
RFF(Really f**king fast)
Tiptup
NormanHorace
Ulysses
Terminator
Slowpoke sal
Carbo
Earle
Mr. Kitty
Tortimer
Meatball
Odin
Sheila
RELATED QUESTIONS:
Do Tortoises Know Their Names?
Tortoises will, for sure, recognize the names. They are smart animals. Some tortoises will know not only their names but also their keepers. It is most probably because you are their food dispenser.
What Do Tortoises Symbolize?
Tortoises can symbolize a lot, but most of the time, they are a symbol of knowledge, wisdom, perseverance, and they can defend themselves on their own. It is believed that tortoise carries the whole world. For this reason, the tortoise is associated with the creation. They personify the water, time, the earth, the moon, and also immortality and fertility. Discover Turtle Symbolism here.