Like any other animal, turtles have a defense mechanism. Although they will rely on their hard shell for protection against many of their enemies, turtles, especially the softshell turtles, will bite when captured or feel threatened in any way.
Do turtles bite?
Turtles in the wild are the ones known to bite often. However, this does not mean that your domesticated turtle will not bite. They do too. It all depends on how well you have trained them to socialize and be gentle.
How dangerous are turtle bites?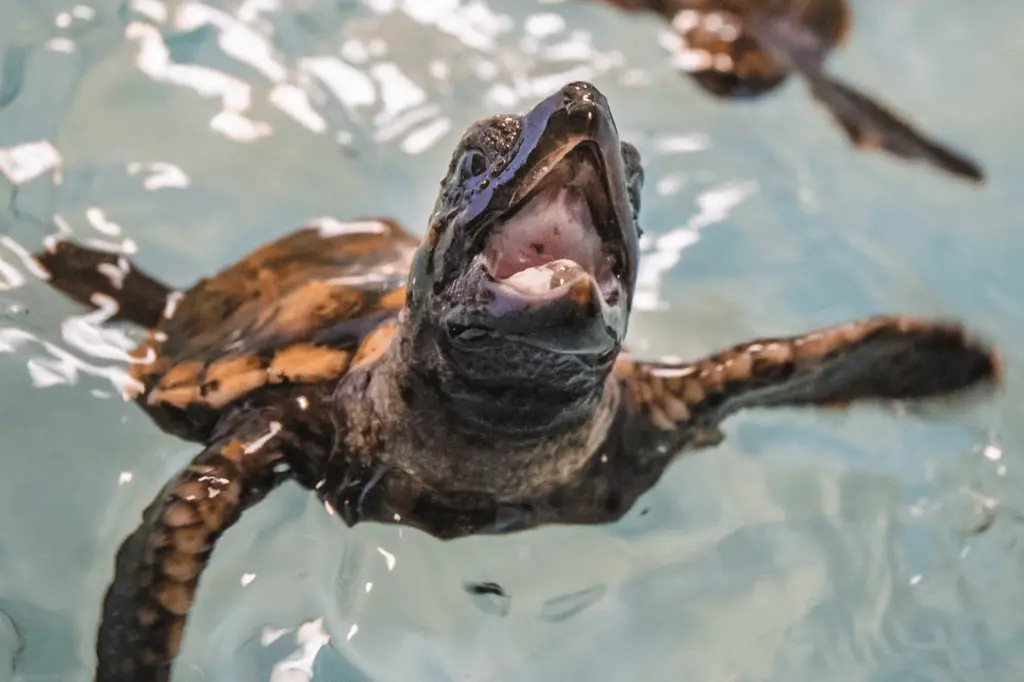 A turtle bite can be dangerous depending on the species of turtle and its age. Bites from a young turtle will have no major effect on your skin and will certainly not hurt like bites from an adult turtle. Young turtles may not be strong enough to break your skin, but those with a sharp beak would probably cause harm. On the other hand, for adult turtles, especially the snapping ones, be extra careful around them. These notorious creatures have the power to hold your entire hand or foot. Depending on how strong their grip is on you, you might even end up losing your arm or leg. Extra caution and expertise are vital when handling them. Check our blogpost on whether turtles carry diseases.
For softshell turtles, you can never be too careful with them. This species has a long neck and will easily reach your hand from behind it. You have to closely observe their behavior whenever you are handling them for they could bite any minute from whichever angle.
Sea turtles would probably the harmless turtle species. They do not perceive humans as their enemy or their prey. However, if they felt like you are a threat and happen to bite you, you will end up with a severe wound. Sea turtles have a sharp beak and very strong bites that will undoubtedly leave a huge mark on your skin.
Homes with young kids, the elderly, people with severe health conditions, and pregnant women do not make the ideal homes for these creatures. These group of people have a low immune system and are susceptible to any infection or disease which comes their way. Bites from turtles could have a major effect on them. Also, the fact that turtles have salmonella is another reason as to why they should not be brought to homes with this vulnerable group.
How should I train my baby turtle not to bite?
Adopting feeding habits that are favorable for you will keep you away from bites. You could have a separate place other than the room they sleep in to feed them. This, in turn, means that the water in their relaxing room stays clean for a longer time. Also, avoid feeding them directly to their faces. Train them to get to their food instead of bringing it to them. Also, this will help you keep your fingers away from them. The last thing to do to prevent turtle bites is to avoid tapping on the clear glass whenever you want to get their attention. This is especially when they are hungry. Keep doing this, and all they will see is something fleshy that resembles a worm. This will cause them to bite it off or try to through the glass. 
Training a turtle is a difficult thing to do, especially the red-eared sliders. They are not the smartest creatures and training them on how to behave can be quite difficult. The only thing you can do to avoid bites is to use safe practices when feeding, handling, or being around them.
What should I do if a turtle has bitten me?
Pet turtles will not bite unless you mishandle or injure them. Proper handling and ensuring that they are nowhere close to children will prevent you or your loved ones from getting their bites. If a turtle bites you, just be gentle and look for water in which you can submerge him. Do not get irritated and try to get him to off your skin forcefully. You will likely end up with a worse injury or end up injuring your pet. 
The best thing to do is find some water in which you can submerge it and be patient and in some few minutes, the turtle will go off your skin. Leave him for some minutes so that he can cool down. After some time, when you need to get him out of the water, make sure to handle him by the back of the shell while being cautious not to drop him.
Some people have a vigorous reflex which can lead them to harm the turtle which could even kill them. This can lead to a very dangerous situation. Once a turtle is dead, it will only hold your skin with more pressure instead of loosening the grip. This means a more severe injury.
If the turtle bite has done quite some serious damage on your skin, have a medical professional look at the wound so that they can clean it thoroughly. Turtles carry with them salmonella which can be harmful to your health. However, for a small bite which has no damage to your skin, you can treat it by cleaning it thoroughly with water and soap.
Do turtles bully?
Turtles are solitary animals. Housing two or more turtles in the same tank is not the best thing to do. However, sometimes these reptiles will tolerate each other and even live harmoniously. If you have two turtles, it will only take you a few days to know whether they deserve to live in the same space. In the wild, turtles will live around the same space because it is what they need to do to survive. Although they live together, they will do most of their activities independently. They do not have a whole socializing aspect in them. 
For pets, turtles will tend to live with each other peacefully when they are young. As they age, this is likely to change and hostility will start kicking in especially when you have two males in the same space. Occasionally, these animals will live together in peace their entire lives. Once you start noticing bullying behavior, it is necessary that you separate them or one will end up being injured really bad. 
Turtles tend to fight or bully each other because space is beginning to be insufficient for them to lead a comfortable life. Also, when they lack enough resources like food and other accessories and they feel like they have to fight in order to survive. Sometimes, a matter of exhibiting superiority and dominance. This often happens around the basking areas and when sharing the space. The stronger and more dominating turtle will fight the weaker turtle to move from its territories. Therefore, if you want to have two turtles in the same tank, you need to ensure that there is sufficient room for them even as they grow old. 
Sometimes, turtle owners will mistake their mating behavior for aggressiveness. During mating, to get the female turtle into the mood, the male turtle will nip the female on the neck, its feet, and on their tails. Nipping is usually gentle and will not cause any injury to the skin. If the female declines, the male turtle will give her some space. If it is your first time rearing turtles, you might actually have challenges differentiating the two behaviors.
Save this pin for later on your turtle related board on Pinterest!